Volunteerism and Social Action
VOLUNTEER'S IN ETHIOPIA (2014)
Dear Friend, I was looking forward to sharing with you what has been for me Addis Ababa after two trips with the same backdrop, poverty. I have known people, both Farangis ("white") as Ethiopians have made me grow internally and amaze me every day Beauty lies in human dignity. I have seen poverty, sadness, abandonment, loneliness, illness and suffering in the eyes of many Ethiopians. Everything I've seen and heard and felt these last 20 days has made me feel more and more indebted to this country. And I say that Ethiopia owe me always finds a way of being, an attitude to life that makes me completely happy. This part of the detachment, the emptying, starting and finishing material for our own interests, to surrender completely. Only when you take away everything you have left, so superficial, it reveals the essence of humanity; Love, that nobody is indifferent. In this second trip I have been aware of my weaknesses that keep me from being as happy as I am in Ethiopia. I think two years later, where I could chew everything lived, internalize and ripen, it's time to start breaking barriers. I know you share with me the desire to change this world. And I thank you for being able to speak from the heart. Each of us carry in our hearts the message screaming Addis Ababa, yet there times when we try to escape it, it always comes out: the world needs more love!
VOLUNTEERS IN BRAZIL (2013)
Thanks for teaching us to believe that everyone can make their lives extraordinary.
Thanks for showing us the joy of being loved by God.
Thank you for being an example of overcoming and show that everyone deserves a second chance.
Thanks for showing us the power of a smile and the strength of a song.
Thank you for your friendship, enthusiasm, availability, joy and love in everything you do.
Thanks for letting us see God through your eyes.
Thank you for teaching us that every work, however small and insignificant it may seem, must be done with great dedication.
Thank you for showing us what really matters in life.
Thanks for showing us that in the midst of pain, suffering and darkness, God comes to us to show that we all have a mission.
Thanks for showing us that life is worth. And we must stand up after every failure; that every day we can start over.
We came to help you, but we have been helped by you; We came to give love and feel loved; We came to try to change things and you have changed our lives.
You shall be to us an example of light, hope and love.
Our friendship will last forever.
Spanish volunteers
Brazil. July 2013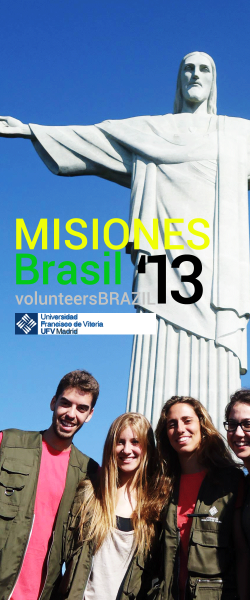 MISIONES COVAS DO MONTE (2012)
Our destiny in this case was Covas do Monte, in Portugal; a pretty village away from Viseu, the nearest town. The aim was to restore, in some cases, rebuild seven buildings. Each of them had a problem and use a completely different so we were fortunate to work with a little bit of everything. The mill, which had damp and woodworm; Espigueiro school and working with painting and beautification of wood; the Azanha and Cabril with cleaning the stone that had been hidden under the ground and placing new structure and slate roof. Finally, Mrs. Lucinda houses and Irene. They needed so much work because we only had four walls blackened by fire and a hole in the ground used as a bathroom. The result was impressive and the satisfaction we get to finish higher. One of the questions we did to get there was Why? No one in the village understood why this initiative, where 50 young people got the bat to improve their lives free. In just ten days, we achieved our goal, and also met a completely different life than we have been in Madrid. The time there seemed to slow down, marked only by the bell, no technology, only nature. "A paradise for those who have return ticket," as says one of the youngest. The hard work in the field marked the character of the villagers, who seemed unmoved by any mishap, their gestures superfluity but lacked life experience. What we get from this adventure is not only see and learn what we have been studying throughout the race through levels as a direct way to understand the purpose of our work as architects it is to try to improve the quality of life of people.
Ana Pereda, Elena Triguero, Marina Carrasco and Carmen Gª del Salto